Dynamic html page from trillian irc logs.

Link can be open on popup (option).
Graphic Smiley (option).
Log reversable : last entry on top (option).
Strip Channel Mode (option).
Some Colors.

Smiley, Links and infos about configuration on top.

Windows PopUp when click on magnifying glass icon (can be disabled).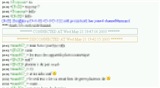 Disconnect and Reconnect more readable.
PHP 4.x.x could be find on www.php.net.
Change $logfile="#zrenard.log"; to match your trillian log configuration.
Configure some options.